Olimax has worked in photography and design since the early 1980's. His portraits and reportage have been featured in such publications as The Face, ID, Time Out, Actuel, Libération, American Harpers, The British Journal of Photography, Sky and The Guardian.

In the last few years he has developed the art of the Mass Portraiture Event, at which at up to 100 photographic portraits are taken over the course of a single day, around a given theme, at a staged event which becomes, in itself, a performance with music, art, and a general festival atmosphere.

He has published several books, Possession 78, Olimax Condensed Alphabet Shoot, PortrATE, and All i Oli: A Homage to Catalunya which were the basis for solo exhibitions in London and Barcelona.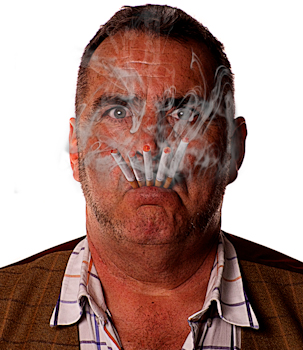 Olimax' interactive work includes the multimedia site for Primal Scream, featured in the Museum for Applied Arts in Frankfurt, an innovative artificial intelligence application for Simple Kid, which won the BT Interactive Music Award and digital projects for Amnesty International, The Institute of Contemporary Arts and The Orb. He has been consulted by Adobe, makers of Photoshop, on digital imaging.

In the recording studio he has produced and mixed albums for such diverse artists as Big Audio Dynamite, The Fall, The Grid and The Tiger Lillies, including the musical Shock Headed Peter, which won two Olivier Awards in 2002. Big Audio Dynamite's Rush/Change of Atmosphere was honoured with Billboard Rock Single of the Year.

Olimax resides in Barcelona for reasons of cultural health.