Eat Meat and Olimax invite you to participate in an all day mass portrait event, Homage to Catalonia, on 26th November, 2011, for a forthcoming exhibition and book.

You, the subject, are asked to bring a relevant item, to be included in your portrait, that represents Catalonia or Barcelona to you. Be imaginative with the theme as this performance is, most importantly, a collaboration between you and the artist. British tapas and local colour all day.
Taken from the invitation to the event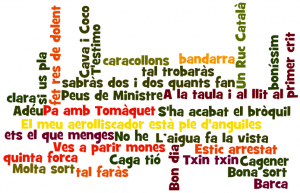 The response to the invitation was overwhelming. Approximately 200 people attended on the day from which more than 100 portraits were taken. Subjects were incredibly imaginative in what they brought along to represent Catalonia, the single most popular theme being La Moreneta, the black Madonna, Catalonia's patron saint and, of course, Pa amb tomàquet, practically the national dish.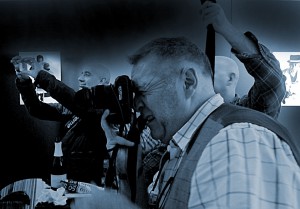 A temporary photographic studio was constructed in the Eat Meat gallery. Djs provided music to create a festival atmosphere, enhanced by lashings of Vermut. The shoot lasted about 12 hours, swiftly followed by the rap and after-party into the wee hours.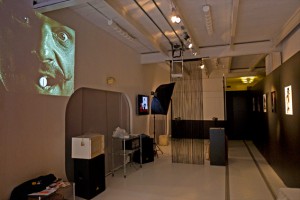 As always food played an important role in the event. Chefs Zim Sutton and Alfredito Marcus created British Tapas that included Roast Beef and Yorkshire Pudding, English Breakfast (Butifarra, quail's egg, bacon & beans), Kedgeree Maki, Eton Mess, Truffle oil popcorn and a spontaneous barbecue of some hand made Catalan sausages from the shoot.

For a full report on the catering visit Mad Dog TV Dinners food blog.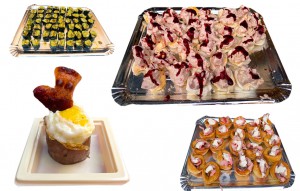 The event was the subject of the film Ali i Oli - A Homage to Catalunya by Mathew Sanger and Peter Boyd Maclean. It paints a vivid picture of the day's activities as well as giving a deep insight into Catalan culture and mores.
It can be seen here in its entirety, with English subtitles.
Ali i Oli: A short film by Matthew Sanger & Peter Boyd Maclean
The film pretty much tells the whole story. What more is there to say but to give due acknowledgement to all who contributed to such an extraordinary day. Moltes gràcies a tots.