In September 2010, to coincide with his exhibition Retroperspective, Olimax staged a gastrocentric one day mass portraiture event at The Victoria, Mornington Crescent, London. Each participant was asked to bring a food related prop with which to be photographed.

The outcome was about 80 portraits, all created on that single day, that illustrate the book, portrATE - Cooking with People.
Chef at work. photo (c) Keef Martin

Phil Dirtbox

Eren Abdullah



Olimax invites you to participate in a one day mass portrait event around the theme of food, cooking and all things edible. You are asked, if possible, to bring any food related item to feature with you in your portrait.

Perhaps a humble turnip or an Alba truffle,
a rib of Aberdeen Angus or an Indian takeaway,
your favourite spatula or your pet chef,
granny's apron or mum's trifle,
courgette flowers or your cauliflower ears,
or maybe just some road-kill found on the way.


Fine wines, refreshing beers and odd entertainment will be on tap to whet your appetite and loosen your inhibitions. Top chefs will be on hand to prepare your offerings, if they are still fit for purpose, and tender delicious pickings if not. Early arrivals will be given priority and possibly sausages.
Taken from the invitation to the event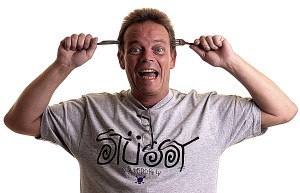 ---
As a postscript to the main event, a couple of days later, at the same venue, Olimax hosted
Phucking with Photoshop
, an evening workshop on digital manipulation, and the like.