On 31st August 2008 about 60 individuals gathered at The Victoria, Mornington Terrace,London to have their portraits taken, based on letters of the alphabet. All this was accomplished over the course of one splendid Sunday afternoon. Much revelry ensued.

Ingredients: Alarmists, Braggarts, Cads, Deviants, Egoists, Flibbertigibbets, Ghouls, Harridans, Imbeciles, Jocks, Knaves, Luddites, Misanthropes, Nihilists, Onanists, Profligates, Quitters, Recalcitrants, Sycophants, Tyrants, Ultraists, Vitalists, Wannabes, Xenophobes, Yes-men and Zoophiles. May contains nuts.
Taken from label on the promotional soup can used for the book launch.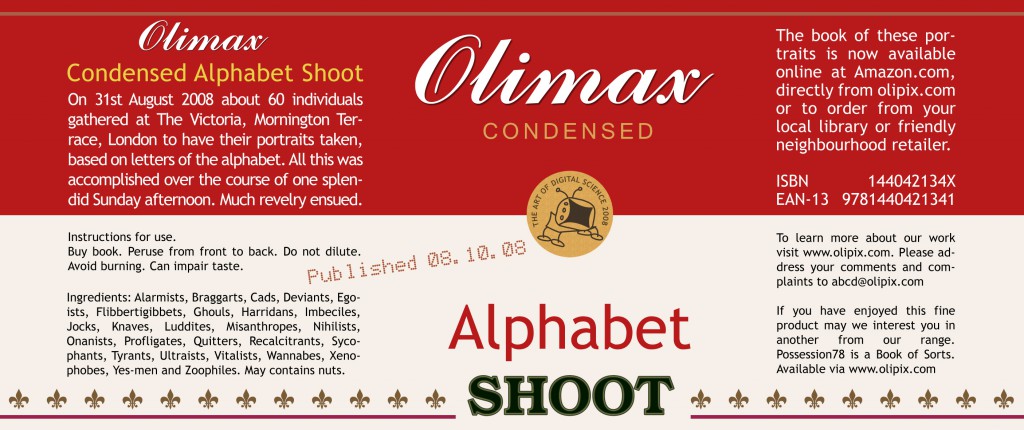 All the portraits were taken one sunny afternoon in August 2008. The location was a makeshift studio above the charming Victoria pub in Mornington Terrace.

None of this would have happened without the selfless enthusiasm of all who willingly came on-board this foolishly ambitious enterprise. Every thanks to those spirited souls who subjected themselves to the unnerving scrutiny of the lens . . .
[amazon asin=144042134X&text=here&template=olimodint]